Return to Headlines
Outstanding Physical Education Students - 2019-20
OUTSTANDING PHYSICAL EDUCATION STUDENT AWARDS DINNER
NASSAU ZONE OF THE NEW YORK STATE ASSOCIATION FOR HEALTH, PHYSICAL EDUCATION, RECREATION, AND DANCE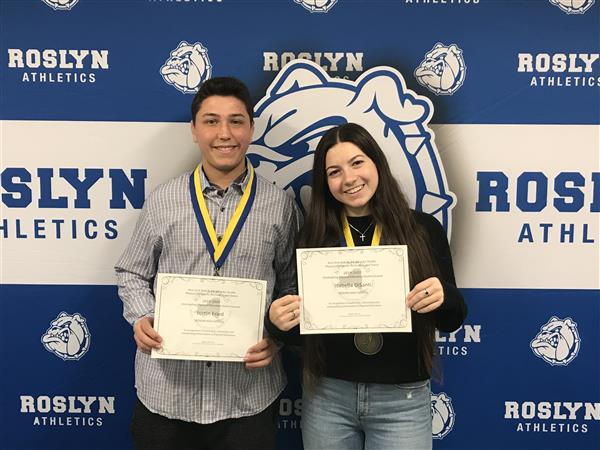 Congratulations to Isabella DiSanti and Justin Fried!
On Monday, December 09, 2019 Isabella DiSanti and Justin Fried received the Outstanding Physical Education student award at Crest Hollow Country Club in Woodbury, NY. Isabella and Justin were selected as recipients of this award by the Roslyn High School Physical Education staff based on their ability to exemplify the criteria of model physical education students. Both Isabella and Justin have exemplified the criteria below consistently throughout their high school careers.
• Exhibit a physically active lifestyle, both during and outside of school.

• Demonstrate responsible personal and social behavior - including good sportsmanship, character, civility, and citizenship.

• Demonstrate leadership and being a positive influence on their peers.

• Demonstrate and valuing a healthy lifestyle and lifelong learning.

• Exhibit exceptional achievement in Physical Education class.

• Achieve a high level of fitness on an approved fitness test.