Tracks and tennis courts are open for community use. Social distancing is enforced. All other facilities remain closed.
(The high school track will be closed from 6/26 to 7/3 for maintenance.)

---

Visit our web page with communications and links regarding the coronavirus outbreak:
www.roslynschools.org/coronavirus

---

First responders or medical personnel seeking child care may contact SCOPE directly at https://www.scopeonline.us/scope-emergency-child-care or by calling SCOPE (Dina Pendel at 631-360-0800 ext. 120 or Mindy Labriola at ext. 164) for more information.

---

---
Introducing the
Roslyn Public Schools
Mobile App

Download it now from your app store to have the school district info you need in your pocket. The app brings you contents from the website and other digital communications – including upcoming events, news, announcements, social media posts, and much more – formatted for your mobile device. Click here to find out how adjusting a few settings can help you get the most out of the mobile app.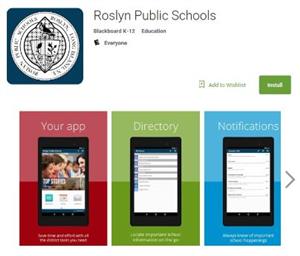 Our Capital Program
The district-wide capital program entered its final phase in the summer of 2018, with new construction at Heights School and the completion of masonry and landscaping around Roslyn High School. For ongoing reports, photos and details about the capital program, please visit the Capital Projects web page.