Capital Projects
Page Navigation
Return to Headlines
Energy Performance Contract 2008-10
A Major Investment in a Greener Future
Energy Performance Contract Will Save on Energy;
No Net Cost to Taxpayers for Improvements
MARCH 2009 - If someone told you that you could greatly reduce the amount of energy you use, shrink your carbon footprint, help lower the nation's dependence on foreign oil and save a lot of money on your utility bills—and that you could accomplish all of this without any additional expense—you would probably say it was too good to be true.
But for the Roslyn Public Schools, it is now becoming a reality, thanks to an energy performance contract entered into earlier this school year by the Board of Education.
While everyone agrees that energy efficiency and alternative energy are good for the environment and good for our bottom line, the cost of new equipment and capital improvements needed to achieve meaningful savings is often prohibitive. An energy performance contract is a novel arrangement by which the school district will be able to undertake a wide range of energy-saving upgrades and improvements, and then pay the costs of making these changes through the resulting savings on its energy bills. Energy performance contracts are strongly encouraged by New York State, which provides incentives to public entities like school districts to make the initial investment in green energy without adding to the local property tax burden.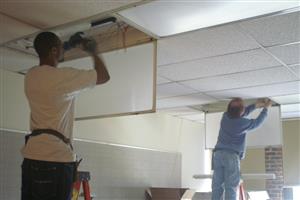 Here's how it works: The school district enters into an agreement with a company that specializes in energy efficiency and alternative energy solutions. The company analyzes the district's expenses for energy — electricity, heating oil, natural gas — in all of the district's facilities, and identifies areas where capital investments can increase energy efficiency or provide alternative sources of power. The school district borrows the money necessary to make the recommended changes and pays it back over 15 years. The company guarantees that savings on energy bills, coupled with rebates from the public utility and reimbursements from the state, will cover the cost of borrowing, including interest. If the savings fall short of what the company has projected, the contract requires that it reimburse the district for the difference. After the district has repaid the loans, the energy savings will be a benefit to taxpayers — and the climate — forever.
"The energy performance contract means we don't have to choose between a greener school district and keeping our costs down — we can accomplish both," says Board President Dani Kline. "It's a win-win situation, and we are very excited to see it come to fruition this year."
Incentives provided by the state prompted the district to issue an RFP (request-for-proposal) two years ago. Several companies responded, and the district conducted a lengthy review process before reaching an agreement with the selected company, Johnson Controls. The firm was chosen for its broad expertise, the quality of its proposal and the comprehensiveness of its recommended solutions.
The scope of the work is extensive, ranging from small items, like insulating around doors to keep out drafts, to large projects like replacing old boilers and installing solar energy systems. Work began in February, 2009 and will be completed in 2010. Highlights include: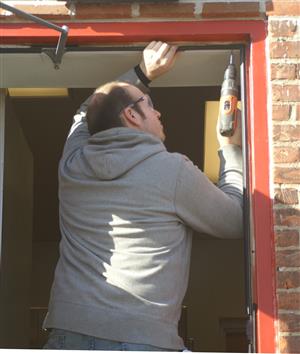 • Building "envelope" improvements such as insulation and selective window and door replacement, repair and/or weatherproofing
• Lighting fixture upgrades and replacements in all buildings
• Sensors in classrooms to automatically shut lights off when not in use
• Replacement of two boilers at Roslyn High School
• Dual oil/gas heating systems in place of systems in several buildings that currently burn oil only, in order to take advantage of price differences
• Heating system efficiency enhancements through modernized boiler controls and steam traps
• Domestic hot water heaters to enable schools to shut down boilers in warm weather instead of keeping them running year-round to provide hot water
• A computer management energy system to reduce electrical usage by computer equipment
• Photovoltaic systems (solar panels) on roofs of the middle school and high school
The total cost of the project is $3,813,745. Energy savings in year one are projected to be $229,247, with total savings of $5,254,219 over the length of the contract. In addition, LIPA will provide rebates totaling nearly $130,000 for the solar panels and lighting fixture upgrades, and New York State will partially reimburse the district for a number of the capital improvements. As noted before, if the energy savings fall short of projections, Johnson Controls is liable for the difference. (The contract guarantees a specific reduction in the amount of kilowatts and therms consumed, which will definitely yield savings; however, it cannot guarantee that utility rates will not increase over time.)
There is also an educational benefit to the energy performance contract. For example, the installation of solar panels will provide students in several subjects, most notably science but also math, English and social studies, an opportunity to study first-hand the impact of green energy and its effects on the environment and human society.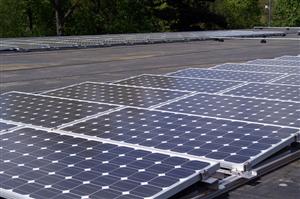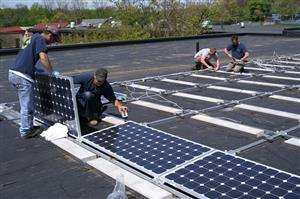 PHOTOS (top to bottom):
Contractors replace the ballasts in light fixtures in a high school classroom. Sensors will also be installed in all of the district's 250 classrooms so the lights will go out automatically when rooms are not in use. Lights will be replaced or upgraded in virtually every interior space—hallways, cafeterias, offices, etc.— to improve energy efficiency.
A special type of metal-clad weather-stripping is installed on an exterior door at the Heights School. With more than 175 outside doors and a similar number of roof vents throughout the district, small efforts to prevent heat loss will add up to large energy savings.
Solar panels being installed on the roof of Roslyn High School (bottom right) and a completed installation at the Roslyn Middle School (bottom left).