Return to Headlines
Ceremony Celebrates Return of Horse Tamer
OCT. 10, 2019 - Dozens of alumni, staff members, students, community residents and local government officials gathered outside of Roslyn High School on Thursday, October 10 to re-dedicate the newly restored Horse Tamer statue, which was returned in late August after a seven-year absence.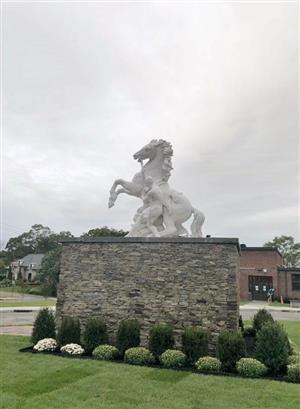 Several speakers invoked the memory of the Mackay family and their estate, Harbor Hill, for which the two Horse Tamer statues were originally created a century ago. (The other Horse Tamer was restored and placed in Gerry Park in 2013.) The historical significance of the statue and its symbolic value to generations of Roslyn students was also an oft-repeated theme of the event.
Superintendent of Schools Allison Brown welcomed the guests and thanked all of those who made the day possible. She said, "This is an extraordinary event as we are commemorating and celebrating a unique part of our local history and culture." Among those she cited were the district's maintenance staff, who installed landscaping and turned the site "into a beautiful focus of our high school campus" and "a fitting complement to the statue itself."
Barry Edelson, the district's Director of Community Relations who has been engaged with this project from its inception, recounted the history of the district's acquisition of the Horse Tamer in 1959. Thanks to the efforts of local artist George Gách, the statue was saved from destruction when the Mackay property was under development. Mr. Gách arranged to have the statue moved to the high school, put it back together again, and made further repairs in subsequent years, often assisted by his son, Peter, a Roslyn alumnus. Mr. Edelson said, "Instead of just an ordinary traffic circle, we have enjoyed right here on our campus, for most of the last 60 years, a singular work of artistic expression... To borrow the words of Arthur Miller, looking upon a monumental work of public art 'makes you feel that maybe you too can add something that would last and be beautiful'."
Board of Education President Meryl Ben-Levy, who, along with Board Vice President Cliff Saffron, was a strong advocate for the Horse Tamer's restoration, also spoke of the Mackay's influence and importance in Roslyn's history. Catherine Mackay, in addition to being a benefactor of important causes in the local community, was also the first woman to serve on the Roslyn Board of Education. And the land upon which Roslyn High School has been located since the 1920s was in fact donated to the school district by her husband, Clarence Mackay.
Ms. Ben-Levy introduced members of the Roslyn High School band and chorus, who performed two musical selections by Irving Berlin, who was the Mackay's son-in-law and also built a home in Roslyn. The band, under the direction of Frank Mauriello, played "Always", and then accompanied the chorus, directed by Cyndi Feinman, in "America the Beautiful."
Barbara Silverman Berke said that "to stand here today, on this occasion, is truly a joy." Her father was the late Alvin Silverman, who served for 36 years as a school board trustee, She recounted how she was encouraged to get involved in the statue's restoration by her father, after reading an article in the local paper about its condition. Along with Laura Smith Rosenberg, also a member of the Class of 1969, she founded Friends of the Horse Tamer in 2012 for the purpose of bringing the Horse Tamer back to its former glory after years of deterioration and damage. She acknowledged the gifts of many individuals and organizations, particularly the response of alumni from many different years. "The horse tamer statue here at the high school is emblematic of the greatness that Roslyn High School was, and is, and for many of us represents an irreplaceable and sentimental symbol of our four years here."
Finally, the current student body president, Andrew Antenberg, greeted the assembled crowd on behalf of Roslyn's students. He read a statement from Danny Pollack, who was a senior and president in 2012 when the project first got under way. He said, "It has meant so much to see how the Roslyn community, schools, and alumni community came together to make this effort a reality...I look forward to seeing this important symbol of the schools and our community proudly standing watch over them in the years to come."
Many alumni contributed to the restoration under the auspices of Friends of the Horse Tamer. More than 100 donor's names are inscribed in commemorative bricks in front of the statue's pedestal. In addition, the largest contributors to the project are listed on a bronze plaque: Nassau County, the Gerry Charitable Trust, the Selma and Alvin Silverman Foundation, Gayle Rockmore Berg and Al Berg; Howard Brecher, Jay Friedlander, Simon Ghatan and Mark Zibner.
The Coordinating Council of Parent Associations and Roslyn High School Parent Faculty Association graciously provided refreshments for the event.
Anyone who wishes to purchase a commemorative brick may do by clicking here and downloading an order form.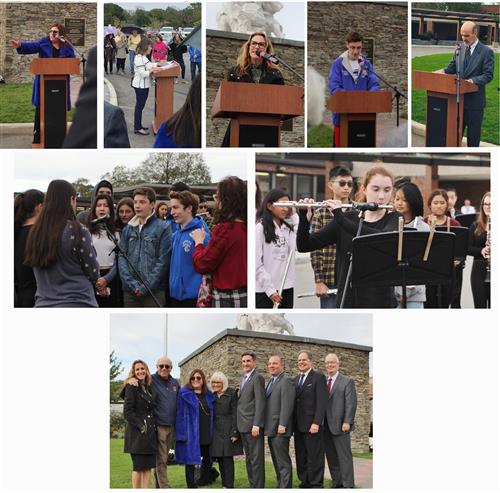 PHOTOS (first row): Board of Education President Meryl Ben-Levy; Barbara Silverman Berke, President, Friends of the Horse Tamer; Superintendent of Schools Allison Brown; Andrew Antenberg, President of the OCC; Director of Community Relations Barry Edelson.
(second row) members of the Roslyn High School chorus sing "God Bless America", directed by Cyndi Feinman; members of the Roslyn High School band perform "Always", directed by Frank Mauriello.
(bottom row) Superintendent Allison Brown; Board Vice President Cliff Saffron; Board President Meryl Ben-Levy; North Hempstead Supervisor Judy Bosworth; Town Clerk Wayne Wink; Councilman Peter Zuckerman; Receiver of Taxes Charles Berman; Village of East Hills Deputy Mayor Manny Zuckerman.
Read more about the return of the Horse Tamer