Return to Headlines
Student Entrepreneurs Make Their Pitch
JUNE 1, 2019 - An alert system for an epi-pen. A safety bracelet for small children. On-demand tutoring services. An app that makes your eyeglasses unnecessary. Cleats that attach to your sneakers.

These wide-ranging and creative ideas were presented by Roslyn High School student-entrepreneurs to a panel of business professionals at the first annual Pitch Night on May 23. A large crowd gathered in the middle school auditorium to hear each of the five teams explain the start-up concepts they developed during the school year in their INCubatoredu class. Pitch Night was the dramatic culmination of a year of exceptional effort.

Under the guidance of Business Teacher Jennifer DiPietro and a devoted team of mentors and coaches, these groups of students worked for months to hone their business plans and their presentations.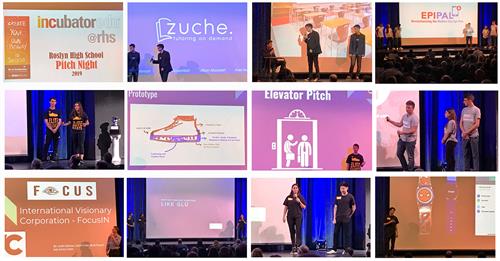 A preliminary pitch event in March enabled students to try out their presentations before the volunteer Board of Advisors, who gave feedback to help them determine what additional steps they needed to take to make sure they had a viable business concept. Ongoing strategic evaluation and guidance helped them to further evolve their businesses.

Of the 10 groups of students who developed business plans as part of the INCubatoredu class, four were chosen by the Board of Advisors to present on Pitch Night: Elite Cleats, Epi-Pal, LikeGlu, and Zuche Tutoring. A fifth team, FocusIN, was selected by audience members.

While comparisons with "Shark Tank" are inevitable, watching the students make their case before an audience on Pitch Night makes it clear that a real-life presentation for venture capitalists requires much more detail than we get to see in the made-for-TV version. Students came prepared with large quantities of data, charts, graphics and extremely well-practiced narratives. The results of their year of hard work were evident and impressive.

Jason Garmise, who served as Community Champion for the first year of the program, said, "I am so proud to be part of the inaugural class of Roslyn High School's INCubator program. The first-ever pitch night was amazing and I was blown away by the students. It is refreshing to see such measured risk taking in today's high-pressured and highly competitive high school environment. This is the true spirit of entrepreneurship and it is a hallmark of our new economy going forward. Congratulations to Jen DiPietro and the Roslyn High School administration for taking the leap and making this class a reality for our kids."

Roslyn High School, with 47 student entrepreneurs enrolled this year, is one of only two high schools in New York State with an INCubatoredu program, and the only one on Long Island. INCubatoredu is a leading provider of entrepreneurship education for high schools. This experiential learning curriculum tasks students with identifying a problem that they witness every day and then to develop a product or service that solves the identified problem and create a business. Using a blend of LEAN methodology and foundational business topics, along with the support of industry experts from within the community, students are exposed to all aspects of creating an entrepreneurial business.
Carol Murphy, Roslyn High School assistant principal said, "As chairperson of the Business Department, this was the greatest opportunity of all: to build a program from scratch that has the most current, relevant curriculum for students; and to give students the opportunity to brainstorm, think, collaborate, and communicate about something they choose to do! I am overwhelmed, just thinking about all that these students have accomplished. They are truly young entrepreneurs."
Roslyn High School wishes to thank all of the community members who have been so generous with their time and expertise.
Mentors: Melanie Cogan, Gregory Frank, Elisa Frischling, Jessica Garmise, Cathy Goodman, Adam Haber, Craig Kugel, Cara Londin, Mike Mashaal, Brian Rubenstein, Mitch Rubin and Russell Saks.
Board of Advisors: Arty Chandra, Scott Finkelstein, Brett Fliegler, Jason Garmise, Fenella Kim, Jonathan Schechter, and Wendy Rubin, as well as Assistant Superintendent Michael Goldspiel and Social Studies Chairperson Paul Rosenboom.

And the winning team was ... Zuche Tutoring, whose creators are Jillian Abizadeh, Noah Kashman, Ariel Nabavian, and Ethan Rosenfeld.