Return to Headlines
READ Donates 25K to Roslyn School District
The Foundation for Roslyn's Educational Advancement and Development (READ) presented Roslyn School District with a check for $25K at the November 17, 2022 Roslyn Board of Education meeting. The donation was raised at Outdoor Movie Night—held in September at East Hills Elementary School. Over 900 tickets were sold for the event.
The funds were given in support of the new Bloomberg classroom at Roslyn High School, and helped secure 30 Bloomberg terminals, an LED ticker display with real-time updates, a world clock, and training programs for teachers. The classroom is used to teach students valuable real-world finance skills as well as related business class programs.
"READ is extremely proud of the success of Outdoor Movie Night," said Jason Garmise, Co-founder and President of READ. "Coming off Covid, we weren't sure how much community interest there would be, but it turned out that there was an extremely strong demand. We are grateful for the support and collaboration that we always receive from Superintendent Allison Brown, her administrative team, and the Roslyn Board of Education; the new Bloomberg room in the high school blew us away!"
"We are thrilled to receive such a generous donation from READ," said Superintendent Allison Brown. "Organizations like READ help us push our already exceptional academic standards to new heights, and we are so grateful for their support."
"I want to thank the READ Board of Directors for their continuous support of our school district," said Roslyn Board of Education President Meryl Waxman Ben-Levy. "READ is a wonderful community organization and the Board is so grateful for the opportunity to work with them on projects that enhance and increase the excellence of our schools."
READ is a non-profit 501(c)(3) charitable organization established in 2011. Their mission is to raise funds to help support the exceptional standard of public education established within the Roslyn School District.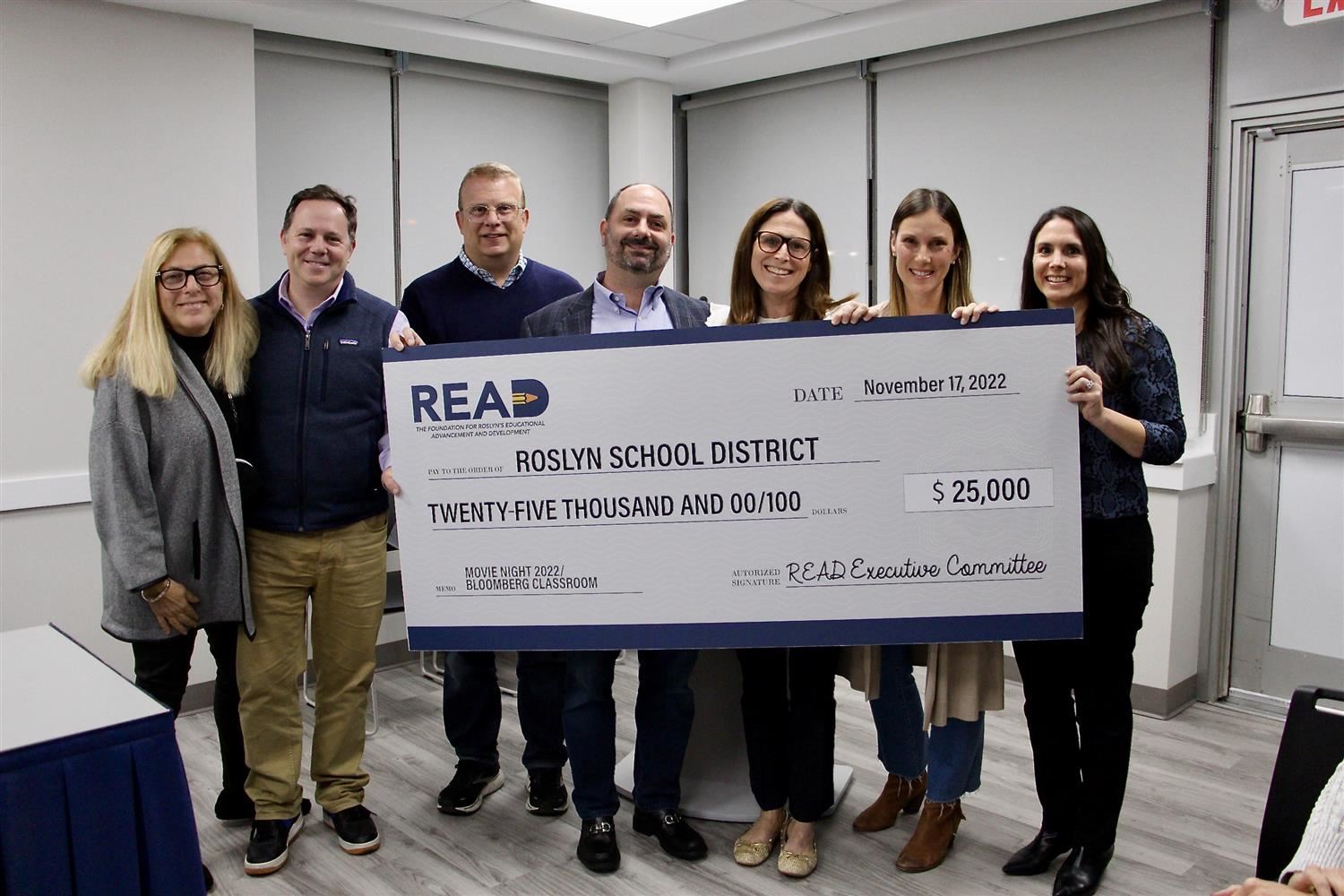 Left to right: Roslyn BOE President Meryl Waxman Ben-Levy with READ Board Members: Dave Herman, Adam Weinschel, Jason Garmise, Jessica Garmise, Lisa Rabinovich, and Allison Fliegler.