Return to Headlines
24 Roslyn Students Earn NYS Seal of Biliteracy
Twenty-four students from the Class of 2022 were awarded the New York State Seal of Biliteracy (NYSSB). The NYSSB distinguishes high school graduates who have attained a high level of proficiency in English and one or more world languages. Student Lilian Berrezueta became the first Roslyn student to earn her seal in two different world languages— French and Spanish.

Roslyn students have multiple pathways to achieve this recognition by their senior year. Students must demonstrate high levels of proficiency in offered courses such as Chinese, French, Italian, Spanish, or a language spoken at home. Under the leadership of World Language Chairperson Danielle Pappas and the dedicated World Language Faculty (Mr. Elena, Mr. Figueroa, and Ms. Lawrence, Mrs. Yeh and Mrs. Zeni), Roslyn High School is a veteran school for the Seal of Biliteracy.

"I am very proud of these students," said Chairperson Danielle Pappas. "Their dedication to learning languages at the highest level until the very end of their high school career is extraordinary."

Congratulations to the twenty-four students who have earned this impressive recognition: Mateo Barreto, GianLuca Berganza, Lilian Berrezueta, Daniella Cardillo, Danielle Covey, Roxin Dayan, Rojeh Dayan, Lilah Dicker, Owen Edelstein, Lindsay Fabricant, Jaideep Grewal, Madison Gross, Natalia Hakimi, Samuel Jacobson, Yasmine Kaplan, Ethan Kessler, Trevor Kim, Benjamin Kuturoff, Madison Kwon, Daniel Liu, Victoria Mihalatos, Sage Spiegelman. Emily Sung, and Hailee Youn.

The goal of the NYSSB is to recognize the value of learning world languages and to affirm the value of diversity in a multilingual society. In addition, the NYSBB provides universities with additional information about applicants seeking admission, identifies high school graduates with biliteracy skills for employers, and prepares students with twenty-first century skills.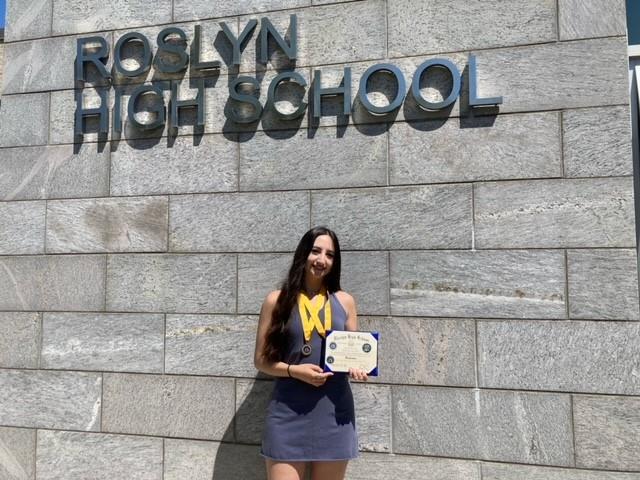 Lilian Berrezueta, the first Roslyn student to earn her seal in two different world languages— French and Spanish.