Return to Headlines
Roslyn Senior Named Regeneron Finalist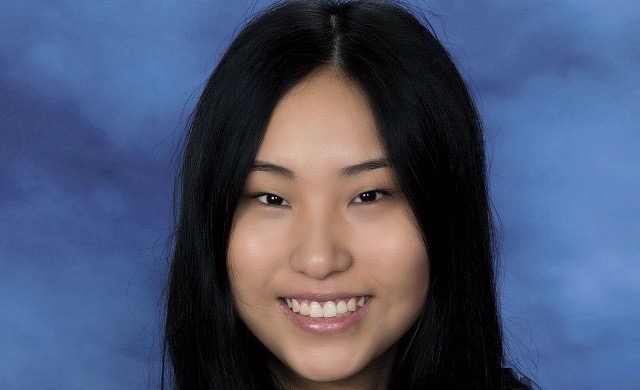 Roslyn High School senior Hailee Youn has been named a finalist in the Regeneron Science Talent Search 2022, the nation's oldest and most prestigious science and math competition for high school seniors. She is among only 40 students, representing 37 schools across 19 states, selected from 300 scholars and 1,804 entrants.
"Congratulations to Hailee for this momentous achievement," said Superintendent Allison Brown. "We are so proud of her and very excited for her to receive such well-deserved recognition for her research."

"It's extremely exciting and unexpected!" said Hailee. "At first, I couldn't believe it. I'm looking forward to joining this community of young scientists."
Hailee was named a semifinalist earlier this month along with three other Roslyn High School seniors and received a $2,000 award. Roslyn High School was also awarded $2,000 for each of the semifinalists.

"We are bursting with pride that one of our wonderful Roslyn High School seniors has earned such an extraordinary honor," said Roslyn Board of Education President Meryl Waxman Ben-Levy. "Congratulations to Hailee! We wish her continued success when she participates in the final competition in March."
Hailee's study explored the effect of descriptive norms and holding a minority or majority political viewpoint on citizens' intention and responsibility to vote. Her research paper for this study was published in the Journal of Political Sciences and Public Affairs, an international peer-reviewed journal based in Brussels, Belgium. She also won 2nd Place in the WAC Lighting Research Association Fair for her study. Hailee's interest in voter turnout stems, in part, from her summer work interning for the United States Law Enforcement Coalition.

"Hailee is amazing in that she can think on multiple levels simultaneously; she can see both the big picture and the smallest details and weave them together seamlessly," said Dr. Allyson Weseley, Roslyn School District's Coordinator of Secondary Research. "She is a topnotch researcher and a wonderful and generous collaborator, who works to improve the research of her peers."
Finalists will participate in a week-long competition from March 9-16, 2022, where they will undergo a rigorous judging process and compete for more than $1.8 million in awards. They will also have an opportunity to interact with leading scientists and share their research during a virtual "Public Day" event on March 13. Each finalist is awarded at least $25,000, and the top 10 awards range from $40,000 to $250,000. The top 10 Regeneron Science Talent Search 2022 winners will be announced during a live-streamed awards ceremony on March 15, 2022.
The Regeneron Science Talent Search, a program of Society for Science since 1942, focuses on identifying, inspiring and engaging the nation's most promising young scientists who are creating the ideas that could solve society's most urgent challenges.
Click here to read Newday's coverage.
Click here to read the Regeneron announcement.