Return to Headlines
Yena Kim Named Regeneron Scholar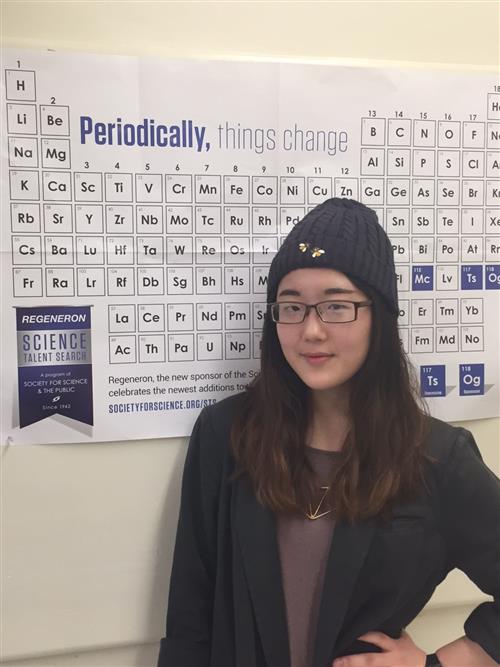 JAN 4, 2017 - Students clustered in Roslyn High School's Research Center the morning of January 4, 2017 to hear the results of the Regeneron Science Talent Search. Moments later, the room erupted in applause as Yena Kim was named one of the nation's 300 Regeneron Scholars. Asked how she felt when she heard, Yena said, "My mind just went blank."
Yena spent the last two years working on her project "Should Men Woman Up for Female-Dominated Fields? The Effect of Gendered Traits on Perceptions of Elementary School Teachers." Yena noted that only about 10 percent of elementary teachers are men. She designed and ran two experiments to explore whether male elementary teachers who used communal language in describing themselves would be rated more favorably than otherwise identical teachers who described themselves using agentic language. Her findings suggest that avoiding agentic language benefits both male and female elementary teachers, particularly in terms of perceptions of their warmth and how desirable people think they seem as a teacher.
"I believe my findings can help improve educational environments and gender equality. I've found that people seeking entry into elementary education can describe themselves using specific gendered traits for better evaluations and even for reducing harmful biases. By 'womanning up,' teachers can positively impact people's impressions and combat prejudices in gender-incongruent work environments," explained Yena.
Yena's mentor on the project was Dr. Allyson Weseley, Roslyn's Coordinator of Secondary Research. "Yena is extremely deserving of this honor," said Dr. Weseley. "She combines a fabulous work ethic with a deep and genuine interest in psychology. She can and will be a great behavioral scientist."
Regeneron took over the sponsorship of the Science Talent Search from Intel, which had taken it over from the original sponsor, Westinghouse. The Science Talent Search remains one of the most prestigious high school science research competitions in the nation.
Yena and Roslyn High School will each receive a $2,000 award for her outstanding showing. Forty finalists in the competition will be announced on January 24. Roslyn students have participated in the program almost since its inception more than 70 years ago and have earned recognition nearly every year for decades.