Return to Headlines
5 Are Invited to Science & Humanities Symposium
JAN 30, 2020 - Each year, the Long Island Junior Science and Humanities Symposium (JSHS) brings together the top student researchers from Nassau and Suffolk counties to present their research. This year, five of the selected students are from Roslyn High School: Yasin Badawy, Gabrielle Fries, Sophie Fries, Makenzie Komack, and Madeline Rubin. The students were named semifinalists in the competition based on their submission of a 20-page paper describing their independent scientific research.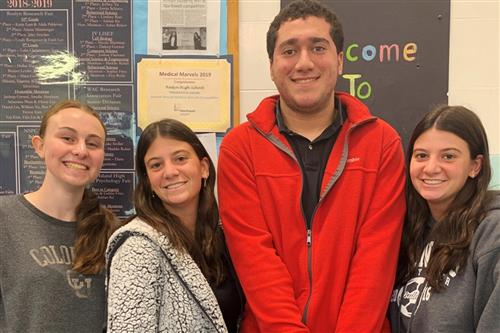 Yasin's project looked at the harm caused by PFOA, a chemical found in Teflon, amongst other household products. Gabrielle's research examined how student stress and somatic issues might be linked to working throughout the school day without taking a break. Her twin sister, Sophie, explored how people perceive men and women's attractiveness based on their initiating and/or paying for a date. Makenzie's project created a type of catheter out of silk, a biomaterial that would be less likely to be rejected by the human body. Madeline's research focused on creating refractive index tuning curves of silicon oxy-nitride, a material commonly used to construct lenses and light sensors.
At the competition on February 9 at York College in Queens, each student will have 12 minutes to present his/her research, and the presentation will be followed by a Q and A. The top student from each room will be invited to the finals later this month, and then a small group will be selected to represent the Long Island region at the National JSHS in Norfolk, VA. "While I always hope they'll make the next round of the competition, I'm already so proud of the whole group for addressing real-world problems with such high-quality research," said Dr. Allyson Weseley, Roslyn's Coordinator of Secondary Research.

PHOTO: Roslyn High School students chosen to present their research at the Long Island Junior Science and Humanities Symposium are (l. to r.) Madeline Rubin, Sophie Fries, Yasin Badawy and Gabrielle Fries. Missing from the photo is Makenzie Komack.