Return to Headlines
Four Named to NYS Master Teacher Program
Four teachers from Roslyn High School — Lisa Daniels, Joe Dispigno, Soowook Lee and Laural Wenzel — have been named to the New York State Master Teacher Program (NYSMTP).
New York State Governor Andrew Cuomo announced at the end of Septembers that 228 new teachers, 90 of whom teach on Long Island, had been named to the NYSMTP in 2019. The program was formed through a partnership with Math for America, a New York City based nonprofit that tries to improve science, technology, engineering and math (STEM) education throughout the country. Currently, more than 1,200 of the state's STEM teachers have been given the honor since the program was first announced in 2013.
"We are proud to host the state's Master Teacher Program that provides innovative solutions to combat the chronic shortages of educators in our highest need areas throughout the state," SUNY Chancellor Kristina M. Johnson said. "By helping to increase our pool of talented teachers, we can ensure that more students, beginning at younger ages, can receive the highest quality education they deserve."
Teachers named to the NYSMTP are given a four year fellowship, complete with an annual stipend of $15,000, where they can continue to be educated in STEM and work with a cohort of teachers to develop methods to better educate their students.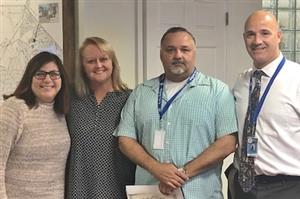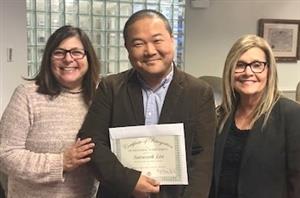 Here are the Roslyn teachers who have earned this distinction:
Lisa Daniels
A 22-year teaching veteran, Ms. Daniels currently teaches Advanced Placement (AP) Environmental Science at Roslyn High School. A strong proponent of immersion-based learning, her lessons often task students with investigating local environmental issues and looking into possible solutions. She is also a teacher for Long Island University's Center for Gifted Youth Program and an advisor for the Gay Straight Alliance.
Joseph Dispigno
Currently working on a Master's of Science in Molecular Biology, Mr. Dispigno teaches AP Biology at Roslyn High School. His lessons emphasize problem-based learning and getting students to ask questions. Professionally, his research focuses on how microscopic organisms interact with the human digestive system. Outside of the classroom, Dispigno coaches wrestling, football and baseball.
Soowook Lee
Mr. Lee is a teacher of geometry and calculus at Roslyn High School, where he also serves as the coach of the school's math team. He was previously a Master Teacher with Math for America was also named a state finalist for the Presidential Awards for Excellence in mathematics and Science Teaching (PAEMST), the highest honor for an American math teacher.
Laura Wenzel
With 23 years of teaching experience, Ms. Wenzel currently teaches earth science and AP Environmental Science at Roslyn High School. She also serves as an advisor for the school's Environmental Club, and works to make her students more aware of the issues plaguing the environment today.
PHOTOS: (left) Laura Wenzel and Joe Dispigno are congratulated by Board of Education President Meryl Ben-Levy and Science Chairperson Gary Ramonetti.
(right) Soowook Lee is congratulated by Ms. Ben-Levy and Roslyn High School Assistant Principal Carol Murphy.