Return to Headlines
5 Are Regeneron Scholars, Including 1 Finalist
JAN 10, 2019 (updated JAN 23) - With the precision of good scientists, Roslyn High School's research students had planned to meet just before noon on January 9, the time at which the 300 national Regeneron Scholars were to be announced. As it turns out, the announcement was made a bit early, providing the opportunity to congratulate the winners one-by-one as they trickled through the door. The responses of the five students – Adrian Ke, Brandon Lee, Mayeesa Rahman, Lindsey Rust, and Justin Schiavo – ranged from screams to confusion to outright assertions of "you're lying!"
Roslyn is one of a handful of schools in the nation with this many Scholars. Dr. Allyson Weseley, Roslyn's Coordinator of Secondary Research was not surprised. "They're an outstanding group," she said of the class of 2019, "they all deserve this kind of recognition." Formerly known as the Intel Science Talent Search, it is one of the oldest and most prestigious research competitions in the nation for high school students.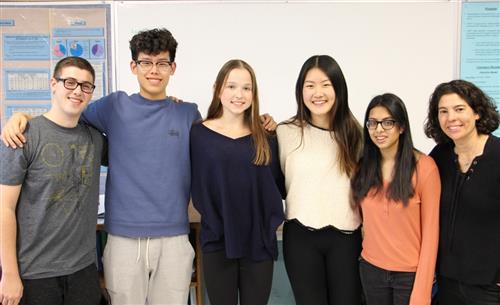 Three of the Roslyn five did their studies in-house under the mentorship of Dr. Weseley. Adrian sought to explore how graphs could be used to educate people about health risks. Her experiment looked at the effect of graph embellishment on the comprehension, recall, and trust of the information presented. She found that moderately embellished graphs promote the greatest retention of information without compromising trust. Mayessa explored the pervasive problem of academic dishonesty. Her study showed that gender plays an important role in how people judge and wish to punish academic dishonesty. Lindsey, a nationally ranked rower, studied bias against female coaches. She found that while such bias was stronger in traditionally male sports like baseball, it was present in all types of sports and is connected to an enormous difference in the salaries that male and female coaches are perceived to deserve.
Brandon spent two summers working in a pathology lab at John Hopkins University. There, his project focused on developing a safe delivery strategy for the proteins in our bodies responsible for eliciting a potent immune response. Brandon explained that his study showed "that albumin has the potential to act as a vehicle by which to extend the half-lives of these proteins and direct them to the appropriate tissues in the body."
Justin's study was motivated by his longstanding interest in astronomy and space travel. He compared the thrust produced by a rocket using a traditional bell nozzle with that produced by one using an aerospike nozzle that seeks to accelerate gases around a central spike. Justin designed his nozzles by consulting various astrophysicists via email and tested his nozzles using the oxygen at his father's air conditioning business. Justin was pleased to find that, collectively, his studies show the potential promise of the aerospike nozzle.
In an age of increasing Common Core and other requirements, research programs like Roslyn's afford students the opportunity for self-directed learning. Adrian explained, "I am so grateful to the Roslyn Research Program for giving me the opportunity to pursue my own interests outside of the regular curriculum." Lindsey expressed a similar sentiment; "I'm very happy that my project has taken me this far, and I'm looking forward to continuing to use the skills I learned in research to study other issues relevant to my life."
Each of the five students will receive a $2000 scholarship.

UPDATE:
Justin Schiavo was among the 40 contest finalists announced on January 23 who will travel in March to Washington, DC where they will vie for awards of up to $250,000.
PHOTO (above): (left to right) Justin Schiavo, Brandon Lee, Lindsey Rust, Adrian Ke and Mayeesa Rahman with Roslyn's Research Coordinator Dr. Allyson Weseley.
Watch students' reactions to finding out that they have been selected as Regeneron Scholars.
PHOTO (below): (left to right) Mayeesa Rahman, Brandon Lee, Lindsey Rust, Justin Schiavo and Adrian Ke explain their research projects at the Board of Education meeting on January 24.