Return to Headlines
Throughout the 2016-17 school year, Roslyn Middle School and East Hills School joined in the nationwide No Place for Hate initiative which aims to create an inclusive school community by promoting unity, kindness and respect, while empowering schools to reduce bullying, name-calling and other expressions of bias. The schools' No Place for Hate Committees – comprising staff, students, parents, and administrators – worked diligently to develop meaningful experiences for students by discussing school culture and ways to promote comfort levels for all students while at school.

The Roslyn Middle School committee designed various events for student participation that encouraged and embraced social inclusion through schoolwide functions. Students, parents, and staff engaged in No One Eats Alone Day, 'The Circuit' by Francisco Jimenez Evening Community Event, signing the Resolution of Respect in all grades, and Unplugged Day.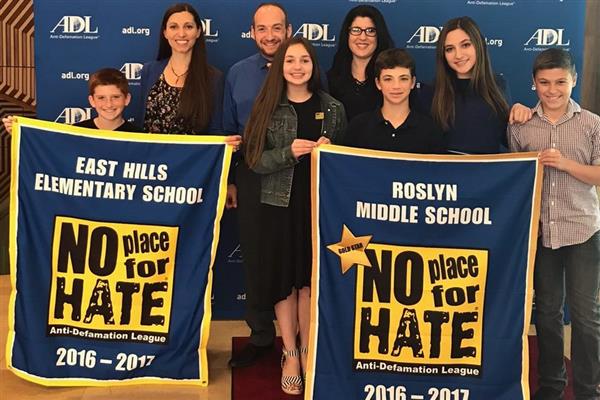 At East Hills School, students and staff proudly celebrated Unity Day by wearing orange to send one large message of support to unite against bullying. "When East Hills stands together, no one stands alone." The children were also excited about breaking out of their comfort zones and "Mixing it up at Lunch" to get to know a new friend. Each child signed the No Place for Hate class promise and received a sticker to bring home.

On May 24, 2017, Roslyn Middle School's and East Hills School's No Place for Hate Committees joined over 127 other schools from the tri-state area for a recognition ceremony at NYU's Skirball Center in Manhattan. Both schools were recognized for their No Place for Hate efforts during the 2016-17 school year.